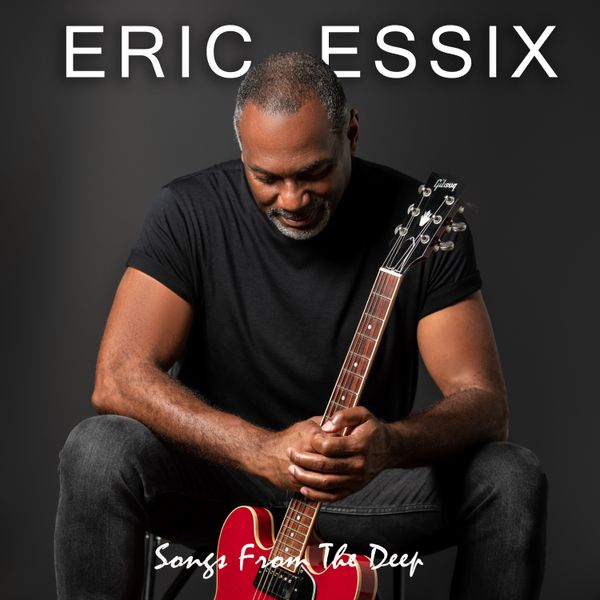 ERIC ESSIX ON, "SONGS FROM THE DEEP"
For Eric Essix, the year 2018 marked two inspiring milestones in his multi-faceted career. In celebration of 30 years as a solo recording artist, the Birmingham, Alabama based, contemporary jazz guitarist released "More", his 25th full length album. It was a pivotal moment in a creative journey that has made him a genre icon - not only for his keen ability to fashion a continuous flow of infectious melodies and funky grooves, but also because of his willingness to artfully dismantle past ideas of what jazz is and reinvent them.
Fast forward to 2020. In the midst of a devastating global pandemic, social unrest and economic upheaval, it would seem like the most unlikely time for an artist to be inspired to write and record new music. However, for Eric, it has proven to be the perfect season to do just that. 
His latest offering is a collection of nine compositions written and arranged by the guitarist, called "Songs From The Deep" which highlight his experiences living and growing up in the Deep South and their relevance in today's world. Produced by Eric, the record reunites him with multi Grammy nominated keyboardist and bassist, Kelvin Wooten and journeyman drummer, Marcus Finnie. As a trio, they were the core unit that created two of the biggest albums of Eric's career, "Evolution" and "The Isley Sessions".
"Songs From The Deep" opens with the sensual, pulsating groove of "Late Night Drive". It is "driving music" in its absolute purest form. "When I was a kid, one of the things we would do as a family for entertainment was pile into the car and my dad would take us on long evening rides through the city of Birmingham while listening to music on the 8 track tape player," Eric recalls. "On one of those trips, I discovered Wes Montgomery's "California Dreaming" album and that's when my love affair with jazz truly began. I tried to capture the feeling of those moments with this song." 
Another piece from the record, "Back Porch", features Eric sharing melodies and solo breaks over swirling keyboard accompaniment with Atlanta trumpeter, Melvin Jones. This song also has its roots in Eric's childhood. "At my grandparents home, on their back porch, is where the family gatherings and cookouts took place and this song, for me, brings back fond memories of long, hot, Alabama summers, good food and spending time with loved ones."
The title of the song "3 AM", is a reference to the early morning hour during which Eric is often inspired to create. "A lot of the music that I write happens in the quiet of the early morning hours," he says. "I often wake up with an idea for a song and either go into my studio or pick up a guitar to flesh out what I'm hearing. "3 AM" is the product of one of those late night ideas that seemed to be right for this album."
The title track and centerpiece of the album, "The Deep" hearkens back to Eric's gospel influences which have been on full display throughout his career beginning since his 2001 Zebra Records release, "Southbound". With its soaring Hammond organ and soulful 6/8 backbeat, "The Deep" immediately propels the listener into the artist's world. If there was any doubt about what inspired this album, "The Deep" makes it clear and cements the Southern connection.  
Several compositions on "Songs From The Deep" take on a decidedly more serious tone that underscore America's continued struggles with race and injustice - the same struggles that Eric remembers as a kid growing up in Birmingham during the last years of the Jim Crow South. "It is extremely sad that we are still working through the same issues in 2020 that were prevalent when I was child in the 1960's. In 2013, I released an album called "Evolution" which celebrated Birmingham's progress with race and the healing and reconciliation that followed 50 years after the 16th Street Church bombing...but there is still much work yet to be done," Eric laments. The titles "Skin", "Hold On" and "Forward March" speak to this sentiment. Two of the album's compositions also respectfully honor the life and words of the late Civil Rights soldier and fellow Alabamian, Congressman John Lewis. The song "Walk With The Wind", featuring stellar vocal work by Kaleah Wooten, is a call to action taken from the last paragraph in Lewis's final essay entitled "Together You Can Redeem The Soul Of Our Nation". Eric's song "Stand", with it's majestic and uplifting string arrangement performed by West Byrd, focuses on more of the congressman's words in the same essay where he says: "Though I may not be here with you, I urge you to answer the highest calling of your heart and stand up for what you truly believe." 
"Songs From The Deep" is one of the most focused releases of Eric's career, created during one of the most extraordinary times in history. It is a conscious effort by the artist to connect his past and present experiences to the world we live in today in a very thoughtful and intentional manner. "It was real a challenge to write and construct this album over the past few months while being quarantined and experiencing extreme shifts in emotions daily during the recording process", Eric says.  "But I am happy to now have the opportunity to share it and I hope people will be moved by what they hear, each in his or her own way.
                 TRACK LIST
LATE NIGHT DRIVE – 4:23

WALK WITH THE WIND (for Rep. John Lewis) – 4:18

3 AM – 4:38

STAND – 4:45

THE DEEP – 4:40

FORWARD MARCH – 4:39

BACK PORCH – 4:34

SKIN – 5:18

HOLD ON (Traditional) – 5:49
All songs written and arranged by ERIC ESSIX, S Six Music, BMI 
except "Hold On" (Traditional African American Spiritual) Arranged by Eric Essix
PRODUCED BY ERIC ESSIX
Eric Essix – Guitars
Kelvin Wooten – Keyboards, Bass, Vocals, Percussion
Marcus Finnie – Drums
Sean Michael Ray – Bass on "Skin"
Kaleah Wooten – Vocals and Arrangement on "Walk With The Wind"
West Byrd – Strings and arrangement on "Stand"
James "PJ" Spraggins – Drums on "Late Night Drive"
Melvin Jones – Trumpet on "Back Porch"
Eric Essix – Bass on "Hold On" and "Forward March"
Recorded and Mixed by Eric Essix
Additional recording by Marcus Finnie, James "PJ" Spraggins, Melvin Jones, Kelvin Wooten, West Byrd and Kaleah Wooten
Mastered by Larry Anthony, COS Mastering, Atlanta, GA
Photography by Tomiko Essix
Management: Chandra Bell, ARENA EVENTS MARKETING, Birmingham, AL